I was first licensed for Amateur Radio in 2008 as KE5UUO. In May 2016, I upgraded my license to Amateur Extra Class and applied for the call KN6Q.
I'm a member of ARRL, AMSAT, K2BSA ARA, and a lifetime member of the WC5C Tri-County Amateur Radio Club in Azle Texas. I'm a Volunteer Examiner for ARRL and W5YI. PODXS 070 #2539
My home HF Setup:
Yaesu FT-991
AL-811 600 Watt Amplifier
70ft Balanced Line Feed Dipole (Doublet)
130ft End Feed Dipole (80m-10m)
LDG YT-1200 Auto Tuner
MFJ-1708 RF Sensing T/R Switch
SDRPlay SDR Receiver (Running SDR Console V3)
When I operate portable I have an Alpha Antenna ProMaster 18' vertical.
My home VHF/UHF Setup:
Kenwood TM-V71A
Jetstream JTB2 antenna
My FT-991 is also connected via antenna switcher to JTB2, but I rarely use so I don't disconnect EchoLink.
My Mobile VHF/UHF Setup:
QSL Via LoTW (preferred), eQSL.cc (AG), QRZ and Direct. I enjoy real paper QSL cards and will 100% send you one back if you send me one.
You can contact me at:
tom@kn6q.org
73,
Tom Kisner KN6Q
I confess to being a tiny bit of a paper chaser. Some of my Virtual Wallpaper: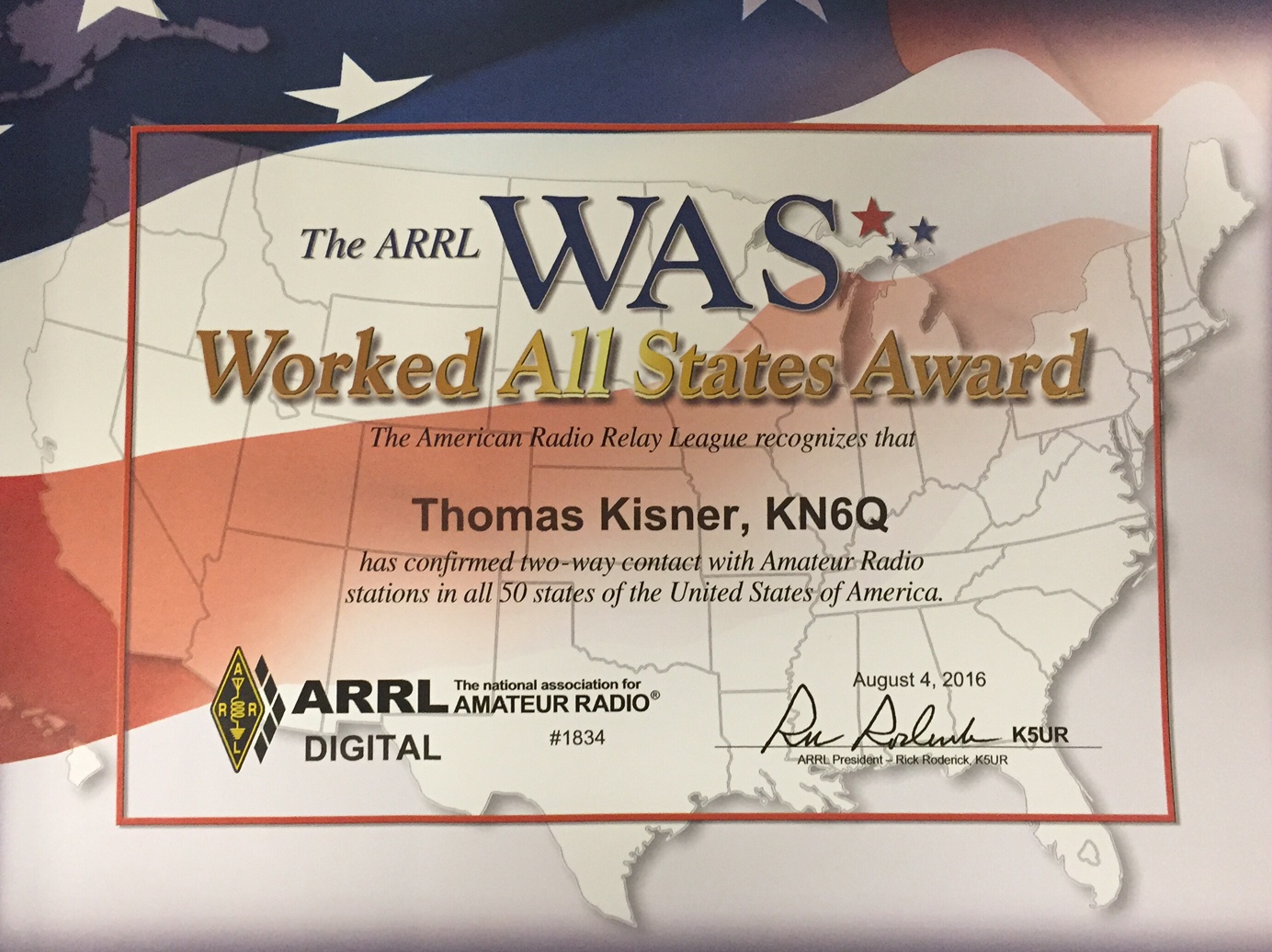 ARRL Worked All States Award (Digital Endorsement). About half of the contacts were PSK31, half were JT65 or JT9. Still working on the Triple Play.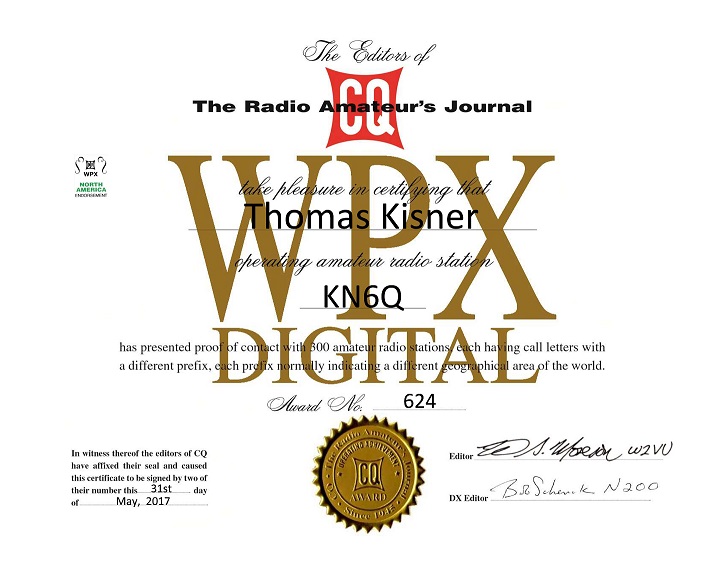 CQ WPX (Digital) for working 300 different call-sign prefixes. I'm pretty close to 400 on mixed. JT modes (and chasing DX) make getting WPX "easier", because of alert software. CQ magazine sponsors some fun contests.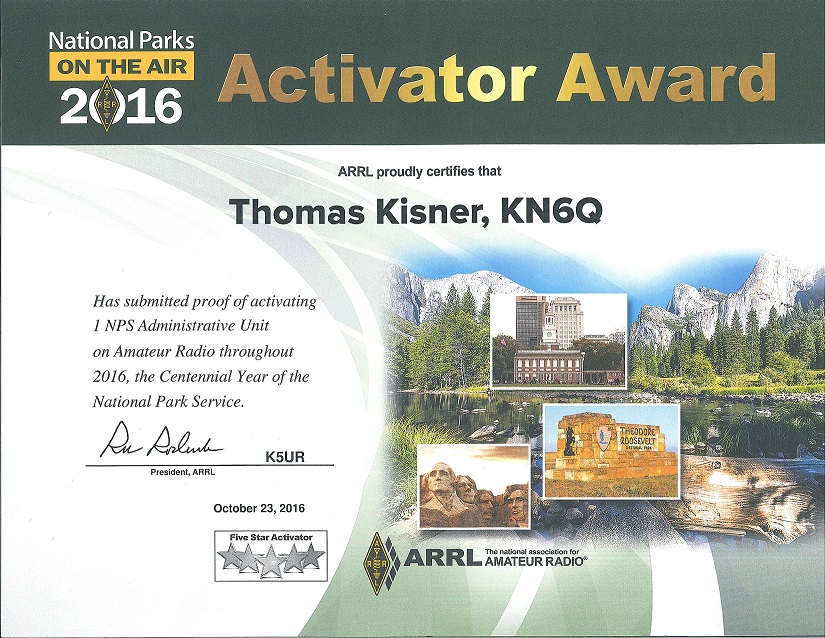 National Parks on the Air Activator Award for the Waco Mammoth National Monument activation. My first time being the target of a pileup, it was a blast. I have a Chaser Award as well, NPOTA was a really fun event.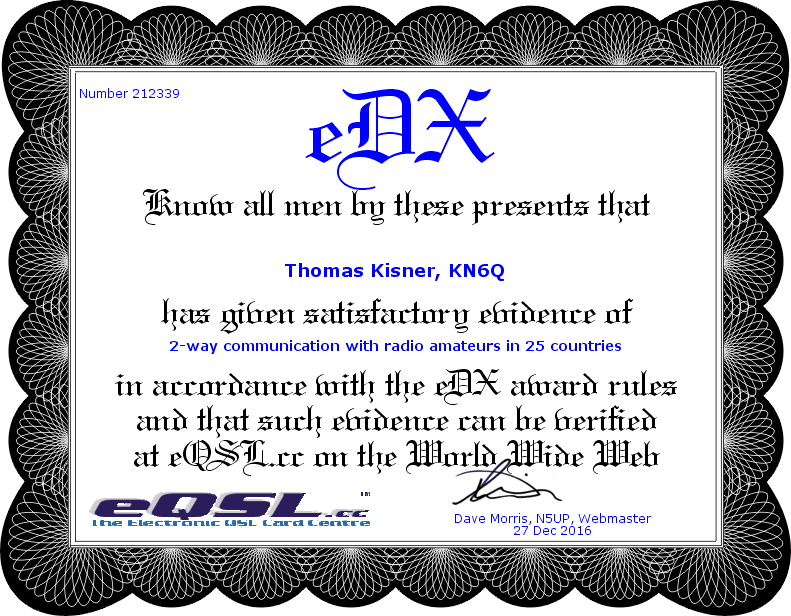 eDX Award (Mixed). Still working on DXCC using LoTW, but in the mean time I've managed to confirm 25 on eQSL.cc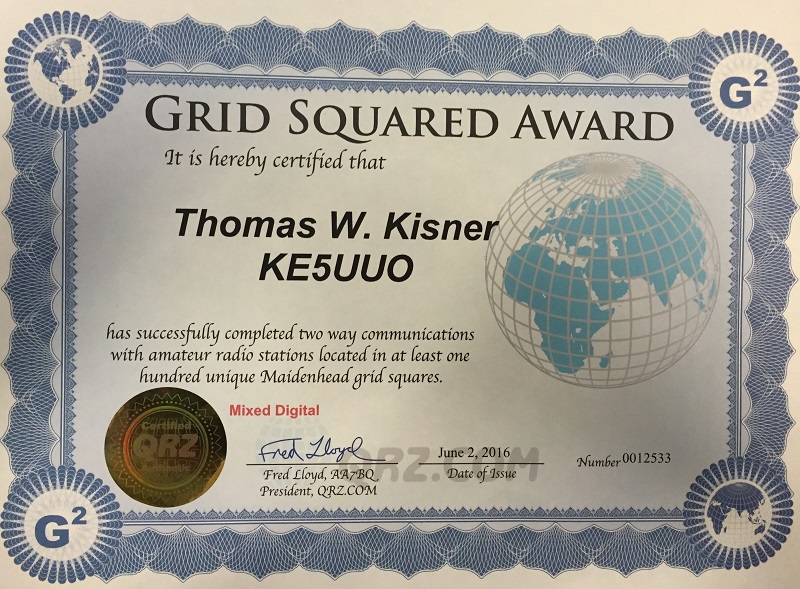 QRZ Grid Squared Award for working 100 different Maidenhead grid squares. I have 20 and 40 meter band endorsements now.
I have more I'll post over time.