I am currently the Committee Chair of Pack 243 and a District Committee member of the Silver Star District of the Longhorn Council of the Boy Scouts of America. As a ham radio operator, I am working with my Pack and District promote Amateur Radio as a method of civil service, emergency communications, and international fellowship for Scouts. I'm also one of the founders of the Longhorn Council Amateur Radio Association (KE5BSA) tring to further these goals in the Council. See our page on QRZ for more info: http://www.qrz.com/db/KE5BSA
JOTA
JOTA is an official international event of the World Organization of the Scout Movement (WOSM). JOTA is a youth program event intended for young people in Scouting of all ages.
The purpose of JOTA is to enable and encourage Scouts around the world to communicate with one another by means of amateur radio, providing a fun and educational Scouting experience and promoting their sense of belonging to a worldwide Scout Movement.
Operator Strip:


All Scouts (Cub Scouts, Boy Scouts, Venture Crews) and Scouters that are licensed ham radio operators at any level are authorized to wear the Amateur Radio Operator Strip. Even though it looks like a interpreter strip, it's not – It goes directly below the JTE (Journey to Excellence) patch on the right sleeve. Speaking of interpreter strips :
Interpretor Strip:


Morse code interpreter strip has specific requirements, but let me boil it down for you – it's being able to receive and send Morse Code at 5 WPM. It doesn't have to be done over a radio, and you are allowed to "cheat" and use a preprinted sheet of the alphabet.
Merit Badge: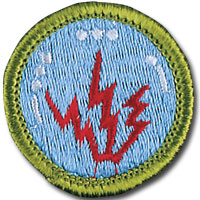 The Radio Merit Badge has been around since 1918. It's the main introduction for Boy Scouts into the world of Ham Radio. There are numerous resources available for teaching it.
I am a registered and trained Radio Merit Badge Counselor in the Silver Star District of the Longhorn Council. Scoutmasters, Scouts' Parents, or Scouts (with their parents copied) can e-mail me at kn6q@outlook.com to request an appointment. If I'm not available I will help find a group class or another counselor.
Some links as resources:
Scouting.org Radio Merit Badge Page
This was intended to be a brief primer on ham radio in scouting. The definitive source of info is the K2BSA ( The amateur radio station for the Boy Scouts of America's National Council ) Website:
K2BSA Boy Scouts of America Radio Scouting Site
73,
Tom KN6Q